- Monographs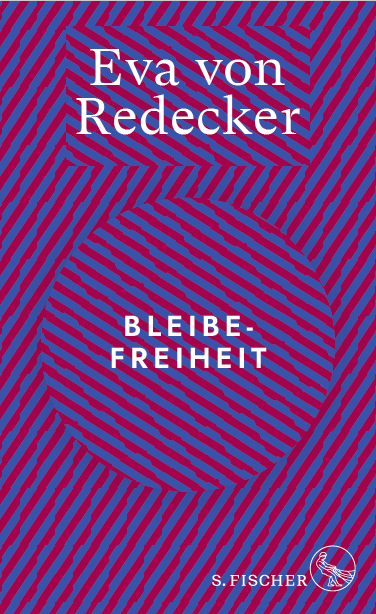 Bleibefreiheit. Frankfurt a.M.: S.Fischer (2023).
more info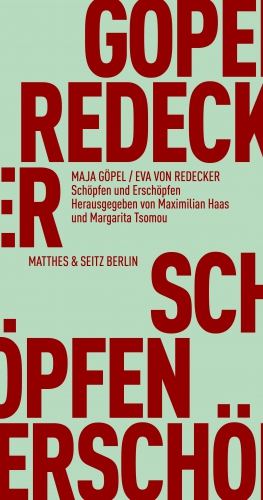 Schöpfen und Erschöpfen. Maja Göpel / Eva von Redecker. Ed. by Maximilian Haas and Margarita Tsomou. Matthes & Seitz Berlin  (2022).
more info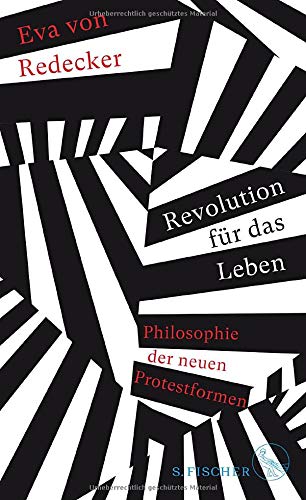 Revolution für das Leben. Philosophie der neuen Protestformen. Frankfurt a.M.: S.Fischer (2020).
French TRANSLATION (by Olivier Mannoni) out with Payot & Rivages, Spanish TRANSLATION (by Agustín Prestifilippo) out with Editiones Ubu, TRANSLATIONS into Korean forthcoming with Minumsa, Czech with Karolinum Press, Greek with Gutenberg and Croatian with Mizantrop.

more info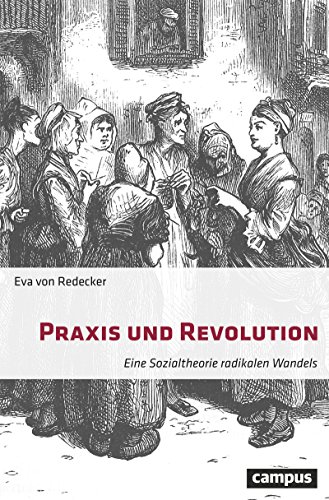 Praxis und Revolution. Eine Sozialtheorie radikalen Wandel. Frankfurt a.M.: Campus (2018).
English TRANSLATION (by Lucy Duggan) out with Columbia University Press.
more info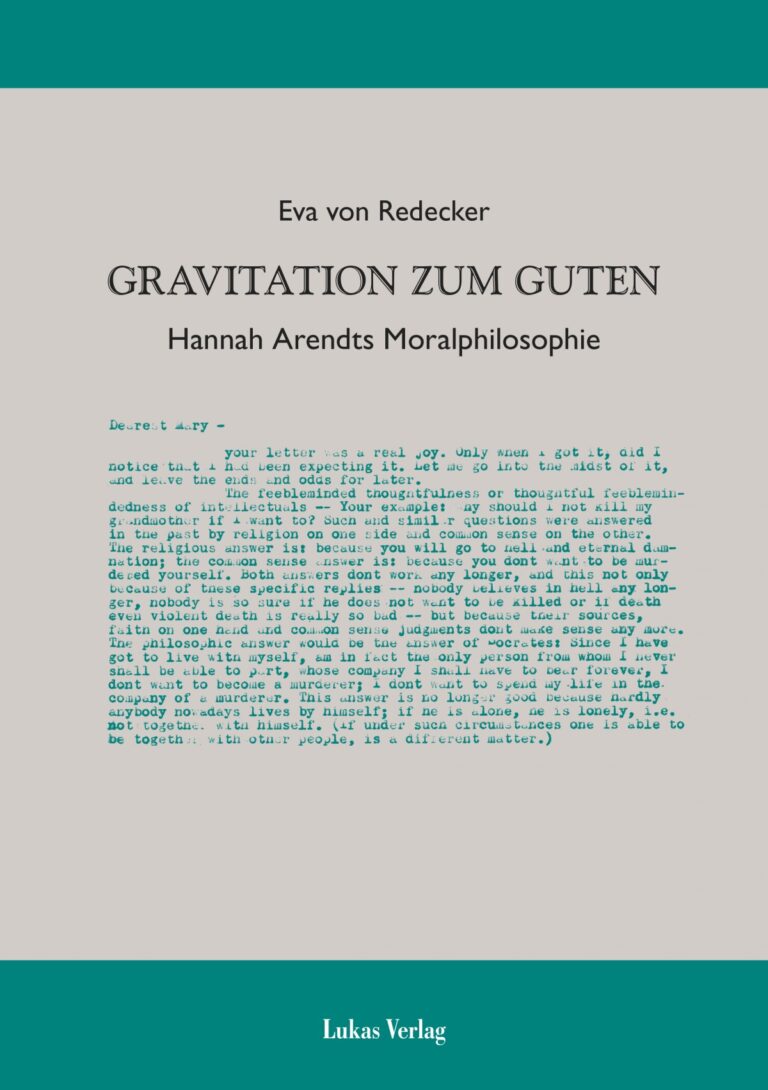 Gravitation zum Guten. Hannah Arendts Moralphilosophie. Berlin: Lukas Verlag (2013).
see editor's website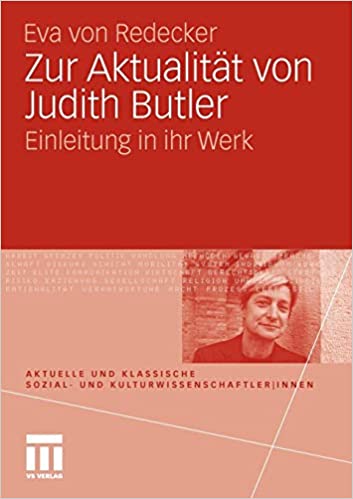 Zur Aktualität von Judith Butler. Eine Einleitung in ihr Werk. Wiesbaden: VS Verlag (2011).
Sample reviews by
- Edited Volumes
Lust an Komplexität und Irritation. Pleasures of Complexity and Confusion.
10 Jahre Institut für Queer Theory / 10 Years
Institute for Queer Theory Berlin: Gender/Queer e.V. (2016)
(with Antke Engel and Jule Jakob Govrin).
Judith Butler: Krieg und Affekt.
Berlin: Diaphanes (2009) (with Judith Mohrmann and Juliane Rebentisch).
- Journal articles
2021
Autoritäre Akkumulation. Hannah Arendt über Hobbes' Leviathan und bürgerliche Geschichte, 897-914 in: Deutsche Zeitschrift für Philosophie 69:6.
English translation: Authoritarian Accumulation: Hannah Arendt on Hobbes' Leviathan and bourgeois history, 157-174 in: Frilli, Guido (ed.): Hobbes nel Novecento, Neapel: Istituto Italiano per gli Studi Filosofici Press (2022).
2020
Ownership's Shadow: Neoauthoritarianism as Defense of Phantom Possession, 33-67 in: Critical Times 3:1.
French translation forthcoming: L'ombre de la propriété. Le neo-autoritarisme comme défense du possession fantôme, in: Genel, Katia/Plätzer, Niklas (eds.): Croisements critiques: L'actualité de l'École de Francfort. Paris: La Découverte.
Serbian translation: U senci prava svojine – Neoautoritarnost kao odbrana fantomske svojine, in: Izvori epistemologije – Kritički život 27 (2022).
2017
Progress, Normativity and the Dynamics of Social Change. An Exchange between Rahel Jaeggi and Amy Allen, 225-251 in: Graduate Faculty Philosophy Journal 37:2.
reprinted in: Allen, Amy/Mendieta, Eduardo (eds.): From Alienation to Forms of Life: The Critical Theory of Rahel Jaeggi. Pennsylvania: The Pennsylvania State UP (2018).
2016
"Anti-Genderismus" and right-wing hegemony, 2-7 in: Radical Philosophy 198 (July/August 2016).
2014
Stratégie feministe et révolution, tr. by Heinen, Jacqueline/Pfefferkorn, Rolans, 139-160 in: Cahiers du Genre 56.
translated from German original: Feministische Strategie und Revolution, 17-36 in: Kley, Christine et al. (eds.): Peripherie und Zentrum. Geschlechterforschung und die Potenziale der Philosophie. Bielefeld: Transcript (2012).
Topischer Sozialismus. Zur Exodus-Konzeption bei Gustav Landauer und Martin Buber, 93-108 in: WestEnd. Neue Zeitschrift für Sozialforschung 11:1.
- Book chapters
2022
Vorwort, IX-XXIX in: Max Horkheimer / Theodor W. Adorno: Dialektik der Aufklärung. Philosophische Fragmente. Frankfurt am Main: S.Fischer.
2021
Hannah Arendt und das Anthropozän. Nachwort zur Neuausgabe, 197-215 in: Meyer, Thomas (ed.): Hannah Arendt. Fragwürdige Traditionsbestände im politischen Denken der Gegenwart. München: Piper.
2020
Des bonnes fées symboliques, de la navigation et de la ré-orientation en philosophie, tr. by Guilhem de Pastors, 205-213 in: Lasserre, Audrey/Janelle, Jean-Louis (eds.): Se réorienter dans la pensée. Femmes, philosophie et arts, autour de Michèle Le Dœuff. Rennes: Presses Universitaires de Rennes.
2015
Marx's Concept of Needs in the Guise of Queer Desire, 31-46 in: Dhawan, Nikita/Engel, Antke/Holzhey, Christoph/Woltersdorff, Volker (eds.): Global Justice and Desire. Queering Economy. London: Routledge.
Das Geschlecht der Philosophie. Nachlese zum Kolloquium mit Sally Haslanger, 399-402 in: Michael Quante (ed.): Geschichte – Gesellschaft – Geltung. XXIII. Deutscher Kongress für Philosophie. Hamburg: Meiner.
2014
Orlando calling. Il genere e l'unificazione degli individui sociali (Gender and the Unification of the Individual), 253-273 (translated by De Monte, Verena) in: Gregoratto, Federica/Ranchio, Filoppo (eds.): Contesti del riconoscimento. Mailand: Mimesi.
Vorgriff mit Nachdruck. Zu den queeren Bedingungen zivilen Ungehorsams, 117-130 in: Burschel, Friedrich/Kahrs, Andreas/Steinert, Lea (eds.): Ungehorsam! Disobedience! Theorie und Praxis kollektiver Regelverstösse. Münster: Edition Assemblage.
2013
Feminismus, Subjektkritik und Kollektivität – eine Einleitung (with Karin Aleksander, Sophia Ermert, Gabriele Jähnert, Ina Kerner and Marianne Kriszio), 9-26 in: Jähnert,Gabriele/ Aleksander, Karin/Kriszio,Marianne (eds): Kollektivität nach der Subjektkritik. Geschlechtertheoretische Positionierungen. Bielefeld: Transcript.
2012
Distributional techniques for philosophical enquiry (with Herbelot, Aurélie/Müller, Johanna) in: Proceedings of the 6th European Association for Computational Linguistics Workshop on Language Technology for Cultural Heritage, Social Sciences, and Humanities, Avignon.
2008
Beute oder Gabe? Ricœurs kritischer Beitrag zu Honneths Anerkennungstheorie, 76-83 in: Menke, Christoph/Rebentisch, Juliane (eds.): Axel Honneth. Gerechtigkeit und Gesellschaft. Berlin: BWV.
- Handbook articles
2017
Gender Parody, 279-292 in: Papenburg, Bettina (ed.): Macmillan Interdisciplinary Handbooks Gender: Laughter. New York: Macmillan.
- Miscellaneous
"Mein Bauch gehört nicht mir", in: Philosophie Magazin (06.10.2022).
"Ist das Arbeit oder kann das weg?", in: Schauspiel Köln Magazin (09.2022).
"Essay: Verflixung", 4-9 in: Burgtheater Magazin #8 (2021).
"Eichelkaffee und Apokalypse", 17 in: ak 675 (19.10.2021).
"Was wird jetzt aus der Freiheit?", 53 in: Die ZEIT (13.10.2021).
"Brief aus dem Wald", 2 in: Le Monde diplomatique D (11.02.2021).
"Alle Zeit der Welt", in: Der Freitag (26.12.2020).
"Reproduction Rebellion!", tr. by Lucy Duggan, 58-60 in: The Philosopher 108:1 (2020). Translated from German original: "Die Erde muss vor dem Kapitalismus gerettet werden", in: Frankfurter Rundschau (23.09.2019).
"Zu Gustav Landauers Revolution der Subjekte" in: Undercurrents. Forum für Linke Literaturwissenschaft 13 (2019).
"Landauers Nachleben: Medialität statt Märtyrertum", 11-14 in: Gaidaio 9 (2019).
"Symbolic glue", review of Roman Kuhar's and David Patternotte's Anti-Gender Campaigns in Europe, in: Radical Philosophy 203 (2018).
"Lesbisches Sehen", 116-126 in: Stefanie Kuhnen (ed.): Lesben Raus! Für mehr lesbische Sichtbarkeit. Berlin: Querverlag (2017).
"A Hommage to Care Sluts", in Nyx. A Nocturnal 2 (2017).
"Was macht eine gute Philosophin aus?", 9f. in: Mitteilungen der Deutschen Gesellschaft für Philosophie Nr. 31 (2016).
"Review of Victoria Browne's Feminism, Time, and Nonlinear History" in: Hypathia Reviews online (22.06.2015).
"So schafft man kein Agreement…: Sandra Ortmann und Eva von Redecker im Gespräch" 48-54 in: NGBK (2012): Bossing Images. Macht der Bilder, queere Kunst und Politik.
"Intensified tenderness beyond the law", review of Daniel Loick's Kritik der Souveränität, 59-61 in: Radical Philosophy 175 (Sept./Oct. 2012).
"In memoriam Elisabeth Young-Bruehl", obituary on HannahArendt.net. Journal for Political Thinking (16.03.2012).
"Rosa Gitterstäbe", review of Living Dolls by Natasha Walter and Onedimensional Woman by Nina Power", 20-24 in: Texte zur Kunst 22/84 (Dezember 2011).
"Jüdisches Leben in Europa. Berlin-Prag-Warschau", 192-201 in: Trabant, Jürgen (2006): Projekt Junges Europa 2. Hannover: Wehrhahn.